Aryaka Releases its 5th Annual State of the WAN Report, and Tech Inside Out sat down with David Ginsburg, vice president of product and solutions at Aryaka, to learn more.
What was your methodology behind this new report?
David Ginsburg: For this year's study, we surveyed over 1350 global IT and network practitioners at enterprises spanning all verticals, headquartered in NA, APAC and EMEA. The survey asked respondents about their networking and performance challenges, priorities and their plans for 2021 and beyond.
We're hearing quite a bit of buzz around the term SASE, or secure access service edge. What are enterprises saying about it?
David Ginsburg: According to the survey, we're seeing a fusion of networking and security. Enterprises are increasingly coupling networking and security planning by adopting an SD-WAN and SASE architecture. One-third of surveyed enterprises state that they have already deployed SASE and most intend to leverage both their networking and security vendors.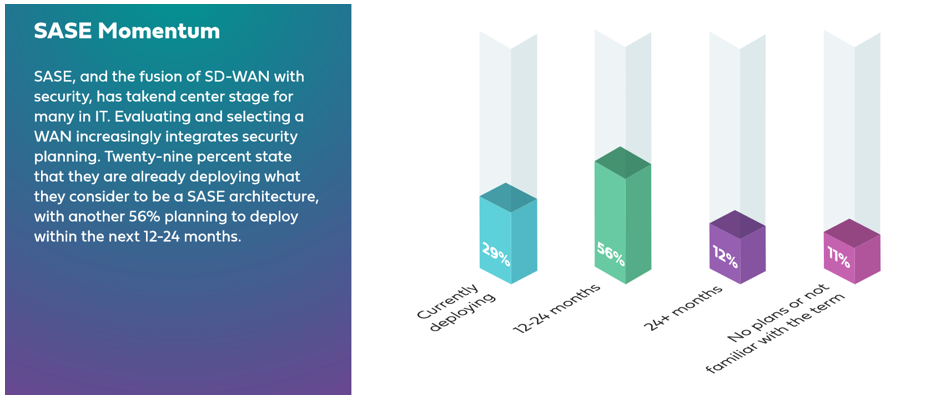 As for SASE features, it wasn't surprising to us to find that 34% identify SD-WAN connectivity as a key component, a SASE foundational feature that is on-par with the different security capabilities required. Next is a cloud security gateway at 30%, followed by a managed firewall at 17%.
In terms of actual SASE deployments, 51% of enterprises surveyed plan to select a best-of-breed solution from both their WAN and security vendor, with only 25% preferring an all-in-one offer. Only 12% plan to rely on their security vendor to provide all WAN components. This speaks to the continued importance of WAN transport, the need to support a hybrid deployment that includes both the edge and the cloud, as the fact that enterprises acknowledge that they may need to engage multiple vendors to meet their requirements.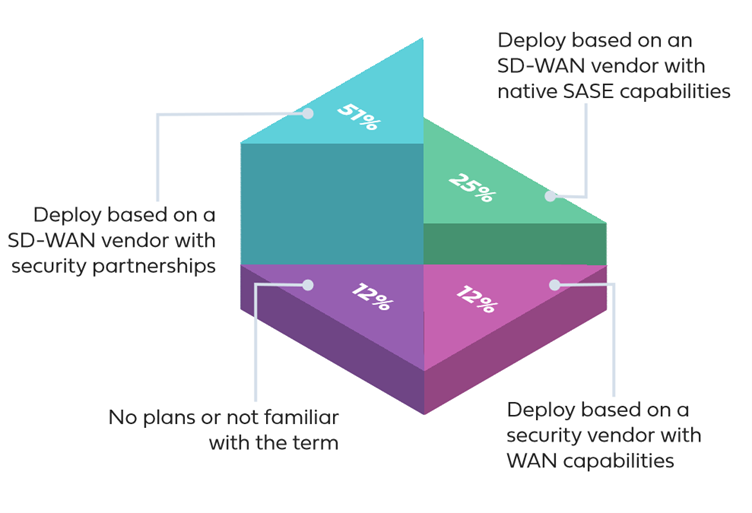 Did the pandemic reveal any interesting networking insights?
David Ginsburg: Yes, the survey revealed the rise of the hybrid workplace, specifically those who need consistent networking performance whether they're working from home, the HQ or a branch office. We found that over 80% of respondents expect more than a quarter of employees to remain remote and almost two-thirds require flexibility between on-premises and remote deployments.
When asked about their post-pandemic remote worker plan, over half (59%) of surveyed respondents expect 25-50% of their users to remain remote by the end of 2021 while 21% expect that more than 50% of workers will remain remote through the end of the year. In addition, to accommodate this required flexibility 64% of surveyed respondents stated that the ability to quickly reallocate resources between on-premises and remote is critical, and it calls out for a solution that fuses on-premises and remote worker orchestration, policy management, and visibility. Silos won't suffice!
Are you seeing any shifts in how applications are handled over the WAN?
David Ginsburg: The survey revealed that continued WAN and application growth is resulting in growing complexity. 46% of respondents now use over 500 applications and 37% identify complexity as their chief concern. This speaks to the increasing strategic importance of the WAN and the applications it supports, as well as the requirement to simplify deployment and operation. Application diversity also continues to increase. Those reporting to use of over 500 applications has increased from 23% in 2019 to 32% in 2020 and now to 47% in 2021, a 50% gain in a year. In addition to application growth, we're seeing interregional site growth as well.
Not surprisingly, we found that SaaS adoption is continuing to gain steam, with those reporting use of over 20 distinct applications growing from 14% in 2019 to 24% in 2020 and now to 33% in 2021. UCaaS in particular experienced especially strong uptake due to the pandemic. It is no surprise that Zoom experienced major growth of 11%, from 25% in 2020 to 36% in 2021, at the expense of other collaboration platforms. Other up-and-coming applications include Microsoft Teams, SAP/HANA, and Slack. There are fewer issues with what were considered unsanctioned applications, as more become mainstream and officially adopted.
Did anyone express any frustrations about their WAN?
David Ginsburg: Complexity is the number one concern enterprises have with their WANs.
What's happening with enterprise WAN transformation?
David Ginsburg: Enterprises are showing more clarity in their requests while identifying fewer barriers to introduction for WAN transformation. 43% of respondents now identify application performance as the key driver. The top drivers for WAN transformation are application performance at 43% with an increase in cloud consumption or digital transformation initiatives both at 38%. MPLS also plays a major factor with 39% looking to augment their existing MPLS infrastructure with other WAN options and another 27% planning for MPLS contract expiration.
Do you have any data around managed services versus those enterprises that prefer to handle their WANs themselves?
David Ginsburg: The study revealed that enterprise managed services acceptance is continuing to grow. 70% of surveyed enterprises are leveraging or plan to leverage managed WAN services versus 18% who plan to implement on their own. This speaks to the importance of an OPEX-based cloud consumption model. An OPEX-based managed WAN follows the same paradigm. Top services requests include application optimization, security, multi-cloud access and, of course, connectivity. It highlights the various requirements to support an evolved WAN.  Building this all on your own is increasingly challenging with regard to cost, skills, timing and risk. Because of this we're seeing the continued move to a managed networking and security service based on SD-WAN and SASE fundamentals.
Is there anything else you'd like to add?
David Ginsburg: I just thought your readers might be interest in the demographic breakdown of the enterprises that participated in this year's survey.
David Ginsburg is the vice president of product and solutions at Aryaka.