We sat down with Peter A. High, President of Metis Strategy, to discuss business, technology, and everything in between. High shares stories of how major organizations were able to thrive despite an increased pace of change by successfully transforming their people practices, processes, technology, strategy and ecosystem for the digital era in his book GETTING TO NIMBLE: How to Transform Your Company into a Digital Leader (Kogan Page, Spring 2021).       
Describe what your company does in 256 characters (a Tweet's length)
We are an advisory firm at the intersection of tech, digital, and innovation. We also have a significant media presence through podcast, books, conferences, and periodicals. 
     

How did you get involved in this industry?
I joined a consultancy after university, and I've been an advisor to technology and digital executives ever since. I had the good fortune to focus on this area at precisely the time when technology was on the ascent in enterprises, and the leaders who ran the agenda for tech and digital increased their influence in enterprises as well. It has been an exciting journey.
     

You've recently written a new book, GETTING TO NIMBLE: How to Transform Your Company into a Digital Leader. Tell us what this is about. What does it mean for a company to be nimble?
The technology and digital functions within companies are often complex enough that these functions prove to be a boat anchor, pulling their companies back, inadvertently serving as an impediment to progress. This is among the reasons why some once great companies fade. Nimble organizations adopt modern practices aiding their ability to act more like the engine and the rudder for companies, steering more readily toward opportunity and safety and away from danger.
The pace of change in business today is the fastest it has ever been, and yet this is the slowest it will be from this point forward. Nimble companies are equipped to seize opportunities as they present themselves and stave off issues as they present themselves, as each will appear more quickly than in the past.
 

How can companies assess the nimbleness of their organization?
 That which gets measured gets done. Therefore, it is important to create a dashboard that is as comprehensive as possible as to the activities that are run by the technological and digital parts of the business, providing a "warts-and-all" assessment of how the company is doing and showing the parts that are mature and where there is a lack of maturity. I provide five themes and 27 sub-themes along with metrics to gauge progress or lack thereof. This is intended to provide the dashboard and a way to improve functionality, eliminating inadvertent blind spots along the way too. 
 

The book covers five major themes. What are they and how do they fit together? 
The five themes are:
       

People

       

Processes

       

Technology

       

Ecosystems

       

Strategy
These are the themes tech and digital leaders must focus on to modernize and to mature. It begins with people. The team is the foundation. One can attempt to optimize the other four, but the results will be underwhelming without great people.
Next are processes. These are the methods the business uses to operate, collaborate, and create its products and services. It must optimize and refine these processes.
That optimization continues with technology, as the company should automate all processes it can. Technology must also be modernized, simplified, and err on the side of being cloud based and "as a service."
Competition is no longer company-to-company. Rather, it is ecosystem-to-ecosystem. Think of the joint venture partners established to create products and services. The supply chain partners supply the company's operation and its product components, for example. The managed service providers provide staff and resources for periods of need when demand is greater than supply. Likewise, the technology and digital division must establish a strong ecosystem of thought partners, allowing the team to cast the net widely for insights and inspiration.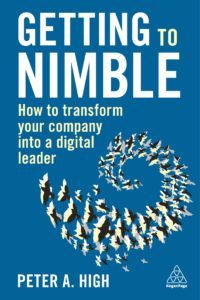 Lastly, strategy must be optimized for a world that is rapidly changing. Finding a true north for the foreseeable future remains important and connecting that strategy to the enterprise's plans, business units, functional divisions, and data strategy are more important than ever to ensure that everyone is pushing in the same direction toward success.
 

How can CIOs or other leaders take the methodology outlined in the book and apply it to their jobs? 
 I recommend starting with an assessment of where the technology and digital division is in its maturity relative to the aforementioned five themes and the 27 sub-themes that I introduce in the book. By so doing, the company will understand where it is performing well and where it may have blind spots that need to be rectified. This process will start the company down the path toward reaching a common and appropriate level of maturity across its operation. It is typically a multi-year journey to get there, as the changes that are necessary are not "light-switch" changes and it is therefore better to start sooner rather than later.
 

What are examples of changes to people/process/tech/strategy/ecosystem that have worked well at other companies? 
 In the book, I talk about Capital One's pathway from having a traditional IT department to having an engineering-centric, build oriented department. This happened by changing the way in which it manages people. The crown jewel is the company's intern program, which provides a pipeline to renewing fantastic talent.
 I offer thoughts on the lessons of General Stanley McChrystal, who kindly wrote the foreword to my book. He changed the processes that the American military uses in combat to achieve better results in uncertain and ever-changing environments. The relevance to the business community is remarkable.
Regarding technology, I cover Rob Carter, who has been the CIO of FedEx for more than two decades. He recognized that his company's secret to success, its technology, was going to become the source of its downfall if it did not modernize. He developed a multi-year plan to do just that, focusing on cloud technology, simplification, and standardization wherever possible.
 Regarding ecosystems, the best person I know in building them is Angela Yochem, the Chief Transformation and Digital Officer of Novant Health, who was with me in Silicon Valley at a presentation of a drone company's capabilities in 2018 and heard that company, Zipline, explain how it delivered medical supplies in African countries to bypass infrastructure hazards. When COVID-19 reared its ugly head, she saw an opportunity to partner with Zipline to launch the first long-distance emergency drone operation in the United States to deliver medical supplies and PPE.
 Lastly, regarding strategy, I highlight the story of Shailesh Prakash, the CIO and Head of Product at the Washington Post, who set up a strategy to modernize the publishing platform at the company, initially to aid reporters and columnists. He discovered that the platform he developed had leapfrogged the industry so significantly that there was an opportunity to sell it to others. It is now a $100 million business for WaPost and growing.
 

How can a CIO or technology leader be a key driver of this strategic change across their organization? 
 They can do so by recognizing that they have a critical, strategic perch within the company. Almost every strategy across the company has a technology or digital component associated with it. Moreover, most innovation is at the intersection of technology and other company disciplines. In recognizing how critical technology is becoming to the rest of the organization, CIOs can deliver the art-of-the-possible, becoming sources of great revenue and efficiency for the enterprise.
     

How has COVID affected companies in their plans to become more nimble?
 The pandemic has increased the pace of change and the rate of adoption of digital solutions. By some estimates, it pulled forward digital adoption by as much as five years. We will probably not regress to the pre-COVID methods of work, and this again represents a remarkable opportunity for those companies that purse a path toward nimbleness. The exit velocity from the pandemic of those companies that had truly digitally transformed will be profound. For those who are behind the leaders, they must push to emulate some of the same tactics to survive and thrive. 
Peter A. High is an expert in business and information technology strategy and has been a trusted advisor to an array of business and tech executives across Fortune 500 companies in various industries. He is the president of Metis Strategy, moderates a weekly podcast, Technovation with Peter High, and writes the "Technovation" column on Forbes.com. He has also written for The Wall Street Journal, CIO Magazine, CIO Insight, CIO Straight Talk, Connected Futures, CIO Digest, and Information Week. He has been the executive producer of the Forbes CIO Summit series annually since 2014 and keynotes at corporate conferences and universities in the US, Canada, Mexico, the United Kingdom, Spain, China, Saudi Arabia and more.