We sat down with Cerys Goodall, President & COO of InnerSpace, to discuss inTRACK, a contact tracing solution designed to empower employers and employees to manage COVID-19 exposure and transmissions in the workplace.
Describe what your company does in 256 characters
Cerys Goodall: "InnerSpace helps companies understand how people use their office space to create the best workplace experience while optimizing their resources and real estate."
How did you get involved in this industry?
Cerys Goodall: "I met the founders of InnerSpace when we worked together at Kobo, a global eReading company, nearly a decade ago. I joined InnerSpace initially to support their investor relations and brand development efforts. From there, I took on the CMO role and led the professional services and data science teams. More recently, my role has grown to President & COO, where I focus on creating a seamless journey for clients but also establish core functions within our business as we grow."
"InnerSpace's mission is to become the world's largest database of indoor location data. We aim to understand how people use buildings. In the early days, it seemed obvious that retail would be a natural fit. However, as we evolved, we realized, that a bigger and more impactful market is the corporate office. In this market we can help to fundamentally transform the workplace experience by not just informing where we work but also how, when and with whom. No longer a 9-5 destination, the office now plays a role in enabling and empowering work across a variety of workstyles. The future is the dynamic office."

What made you think of the idea/what inspired you to create your
technology

?

Cerys Goodall: "Our founder and CEO, James Wu, recognized that indoor location solutions were limited, either by inaccurate and therefore not useful data or accurate but unscalable data which required expensive hardware. He recognized that by using Wi-Fi we could provide customers with a highly scalable and highly accurate solution, which would empower our customers to understand their spaces better, and to scale quickly across their entire portfolio. It all started when he was handed a paper map at a museum after navigating his way there on his smartphone. He knew that there had to be a way to create a better indoor experience – digitally."
How is this going to benefit people/society?
Cerys Goodall: InnerSpace is helping clients re-open their offices safely. We provide employees with information to make the best decisions about when and where to work. Workplace Experience teams are designing their offices to be comfortable, productive, and safe. Business leaders are evaluating how new workstyles will impact the amount and type of office space needed."
"The pandemic highlighted that work can indeed happen at home. But now that we're a year into this new workstyle, we see the fatigue setting in. People want to return to the office in some capacity. Whether it is a reprieve from the home office to collaborate and connect with colleagues or to access needed resources, the office is taking center stage in enabling us to return."
"The key to truly transforming how we work, goes far beyond flex work strategies. It needs to empower people to craft their work-life in an individualized way. To do that, the places they work need to be designed to eliminate friction, to provide the services needed, and to keep employees informed so they can make the best decisions for their needs."
What's innovative about your company and technology?
Cerys Goodall: "InnerSpace uses existing Wi-Fi access points to generate highly accurate, anonymous indoor location data. This information forms the backbone of digital experiences. What GPS does outdoors, we provide indoors. The same people analytics that help inform office design, is used to drive mobile experiences for employees to find available workspace, determine the best time to visit the office, or avoid the lineup at the café."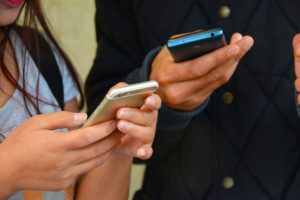 How, in your opinion, has your industry changed in the past five years?
Cerys Goodall: "Flexible work is not a new concept, but in the last five years we've seen a material shift from only large corporations making a meaningful effort, to the majority of corporate offices rethinking their workplace strategies and design. The pandemic accelerated this further, and now clients are shifting gears quickly to revolutionize the role their office space will play in their employee experience."
"We've also seen a merging of roles between HR, workplace experience, and facilities. These experts are increasingly taking on more data-forward requirements and playing strategic roles in the future operations of the company. The Workplace Experience manager in particular, is stepping forward to lead much of the post-pandemic response and increasingly relying on always-on data to automate processes, inform policy and strategy, and directly impact the bottom line."
What has COVID done to your company/industry? Has it been affected? Does your solution assist with the pandemic?
Cerys Goodall: "The pandemic demonstrated that working from home was possible. But I think we can all conclude that it isn't ideal 100% of the time. People want collaboration and interaction outside of the conference call and computer screen. This changing tide has benefited our company as we are ideally positioned to help companies address their short-term requirements to reopen, but also their long-term needs to manage their real estate portfolio as their employee needs change."
Describe the future of your industry. What does the future hold? What is society going to look like?
Cerys Goodall: "At its most basic, the future of the built space will be frictionless. Buildings, empowered by data, will be responsive to the people inside but also communicate so that people can make informed choices and benefit from enhanced services.  Similar to how GPS helps us find our way home, is used to provide services, or helps us make a decision about when to visit a restaurant, InnerSpace will create these experiences indoors. All from your smartphone."
What plans do you have coming up?
Cerys Goodall: "We are focused on expanding across Canada, the US and ANZ and building out our partnerships with the top Wi-Fi providers in the world."
What would your advice be for people trying to get into your industry?
Cerys Goodall: "No matter what your role, data is playing a bigger role than ever before. Learn how to create it, capture it, and craft stories with it. If you do, you'll have an incredible journey ahead."
Cerys Goodall is the President & Chief Operating Officer of InnerSpace, the world's most accurate WiFi-based indoor location intelligence platform. She is an accomplished marketing communications professional who started her career working with Neptec – a Canadian company that enabled NASA to return to space.  Cerys became skilled at navigating the relationships between the technology-provider, NASA, the CSA and the astronauts themselves to best-position Canada's role in the historic event. This work, led Cerys to build a career working with technology startups seeking international growth including CAE's Presagis, BTI Systems, NGRAIN, Freshbooks, Kobo and LEAGUE. At InnerSpace, Cerys is responsible for developing the company's brand and product position, as well as leading the product delivery, professional services, and client services teams. Her love of storytelling, combined with the team's data-driven analysis of their businesses, results in highly engaged clients focused on transforming their business.
LinkedIn: https://www.linkedin.com/in/cerysg00dall/